It is so thrilling to find something you love and then put your own spin on it! When searching for pinspiration for a Christmas craft, I came upon this Pantone Emerald Green Fall Feather Wreath that I was just dying over! My friend and I wanted to make Christmas wreaths together, and she thought we could still find a way to make these seasonal wreaths for the holiday and she was right! While I was married to the emerald green color and wanted to incorporate peacock feathers, it just fell together when I found a bejeweled peacock feather ornament at Hobby Lobby!!! It has a subtle starburst effect which is a nod to my love of mid-century mod decor too!
This was my process:
Wrap the ribbon around the wreath, hot gluing it periodically.
Wrap the gold sequin trim around the wreath in the designated space.
Hot glue the Christmas ornament with desired placement.
Hang it on the door or wall to admire it!
The sequins make it side-heavy so it rotated to that side, but when I hung it on the wreath hanger I positioned the feathers down toward the lower left corner.
My Shopping List:
2″ x 4 yd. "Tropic" Grosgrain Ribbon – Michael's
Foam Wreath Form – Michael's
Gold Wreath Hanger – Michael's
Gold Sequin Trim – Hobby Lobby (but after I bought it, I saw they had it for 50% off at JoAnn Craft the same day)
Bejeweled Peacock Feather Ornament – Hobby Lobby
The Inspiration Wreath: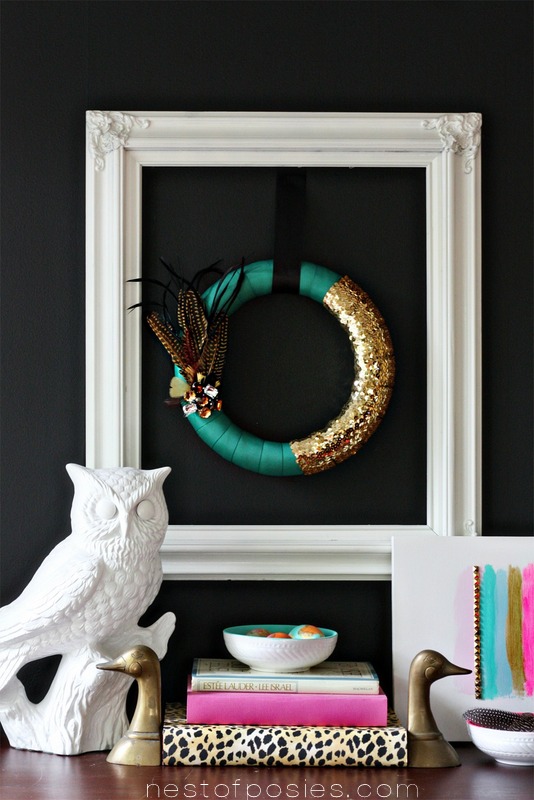 Since these are fun fall colors, I think I will hang my wreath during autumn each year and rock it through the New Year because of the jewels and sparkles! But what if you want to make a Christmas-exclusive wreath? Try my crafty friend's Christmas take on this project:
If you liked this gold sequin-y craft, hop on over to My Party Space for party pics including my "CHEERS" gold sequin trim holiday banner (shown below)–perfect for a Christmas party, New Year's party or other celebrations!
Still in the Christmas spirit? Don't miss My DIY Glittery Christmas Trees shown below!